Welcome onboard! So happy that you decided to join us.
Here's a quick summary of next steps, plus a more detailed description of each step.
1) Check your email for your new login details
2) Login to your Coach Dashboard
3) Review your content (Product section)
4) Review your Pricing (Product section)
5) Set up your Availability (Product Section)
6) Add your PayPal address (Shop Settings) – ignore all other Shop Settings fields
Onboarding Steps – Video Walkthrough
1) Check your email for your new login details
Once you accept our new Coach Agreement, we will create your new coach account and profile.
You will receive an email from us with your new login credentials within 1 day. Most applications are processed within a few hours but some may take longer depending on time zones etc.
If you haven't received your email after one day since accepting the form, please check your Spam folder and then contact us.
2) Login to Coach Dashboard
Login to your Coach Dashboard with your new credentials.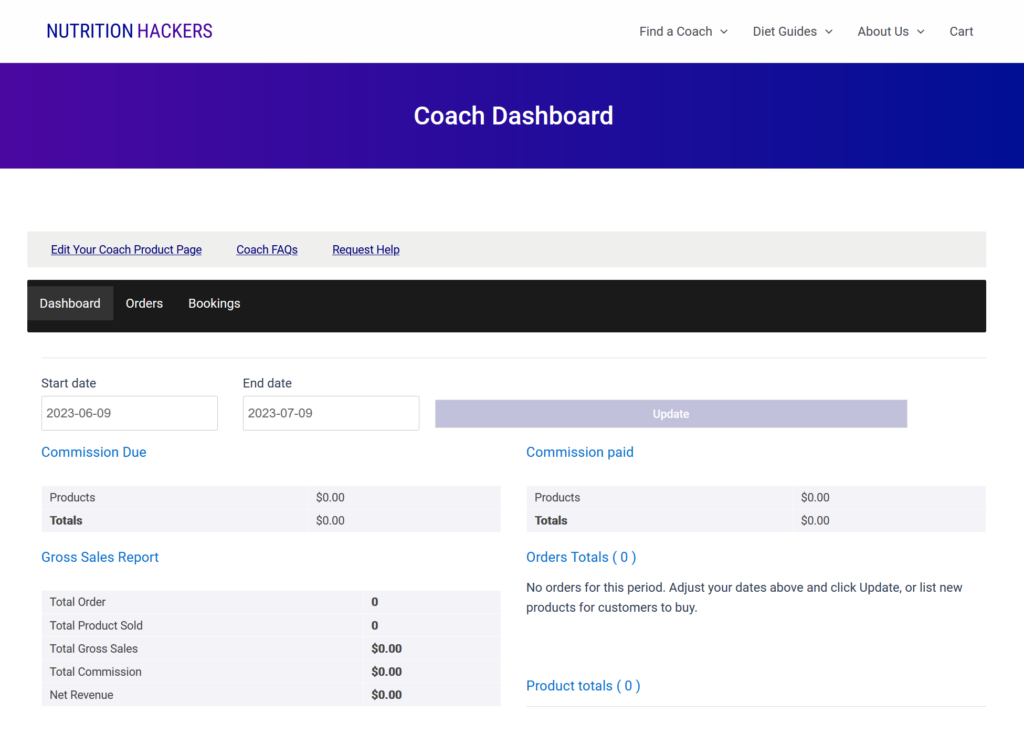 3) Review your name and content
Navigate to your Product section via your Coach Dashboard, or use this link to your Product section. You need to be logged in to view this section.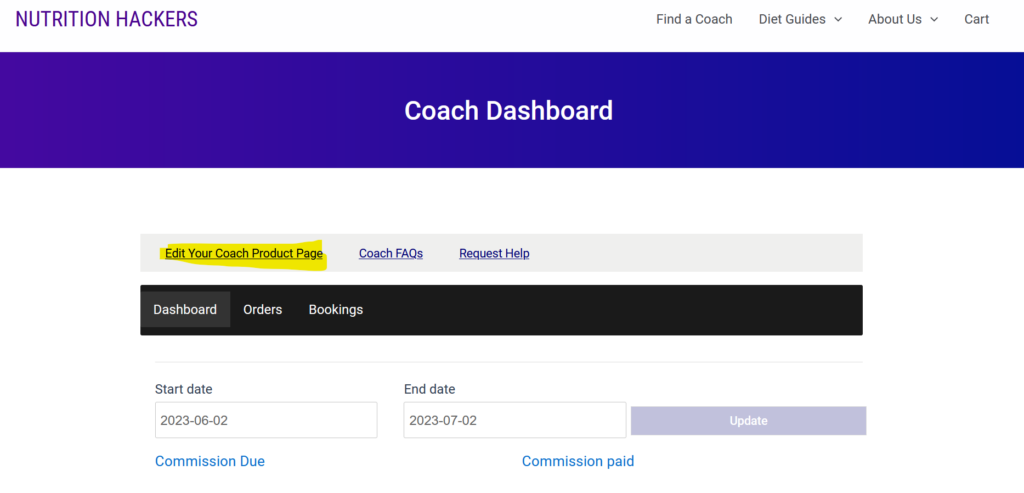 If we have a copy of your content and reviews from the old Carnivore.Diet website, we will upload it to your new profile. We were able to salvage about 95% of the profiles but unfortunately, some of them were already taken down by the time we started the process.
By default, we use coach's full name as the product name, but please feel free to change it to abbreviated name or nickname instead.
Please review all content under your Product section and amend as required.
Please check the following points on the Product page:
Your display name
Your main image and gallery
Product Short Description (showing before Booking Calendar on the live page)
Product Description (posted after Booking Calendar on the live page)
Tags
Categories
Costs
Availability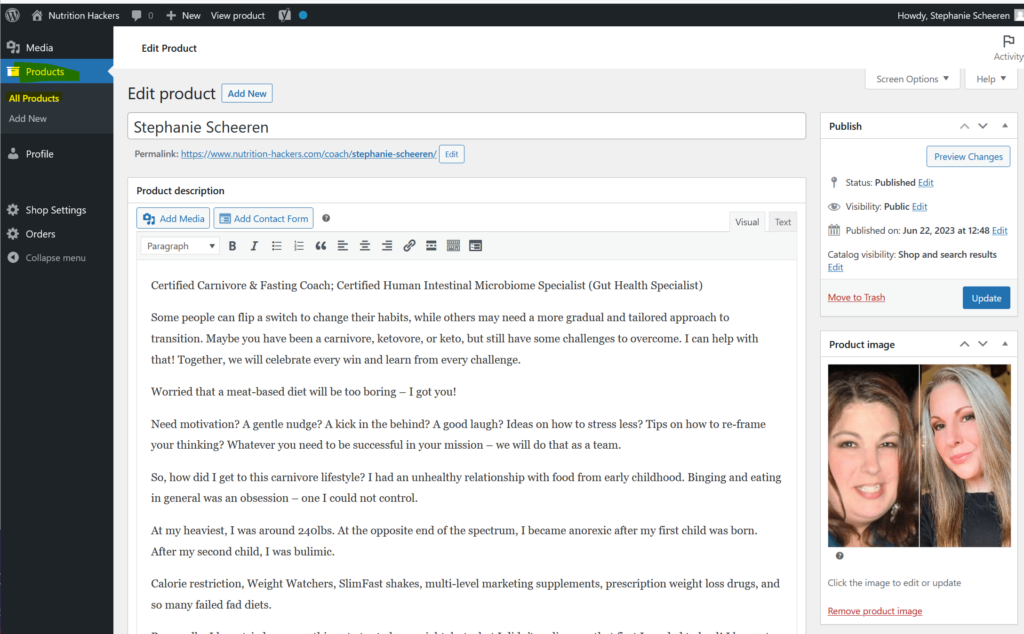 PLEASE NOTE: Slightly counter-intuitive aspect of WordPress setup:
Product Short Description is the part that goes on top of the live page, next to your photo and below the calendar / Book button
Product Description is the part that goes on after the calendar
But they are displayed in reverse order on the Edit Product page.
If we don't have a copy of your content
If we were unable to salvage your content from Revero, we will setup a new blank Draft Product. You will need to add the information yourself. You can save your Draft Product as Pending and come back to it later.
Please email us at info@nutrition-hackers.com and let us know when you are ready to publish your Product. One of the admins will approve and publish the product. Please complete your description, experience, profile photo, pricing and availability before submitting for publication.
4) Review your Pricing
Check and amend your pricing and availability in the Product Data panel:
Session pricing: Product Data / Costs – set any price you like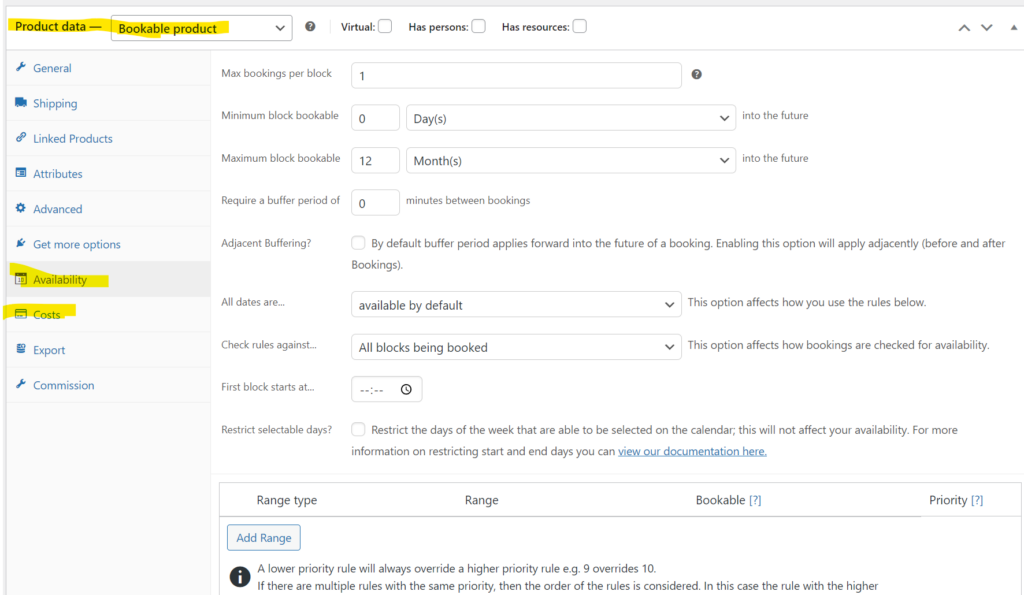 5) Review your Availability
Availability: (Product Data / Availability) – please note the store is on Eastern time (not Pacific)
This works exactly the same as Revero website used to. If you need any help, here's a quick guide on how to set this up correctly.
We are hoping to add a feature in the future to enable you to set your own timezone for Availability, and have it synced automatically against client and store timezones. This is not part of "out of the box" setup so will require some development work.
Save all changes.
6) Add your PayPal address
Go to Dashboard / Shop Settings (you need to be logged in to view this section) and add your PayPal email address in the first field.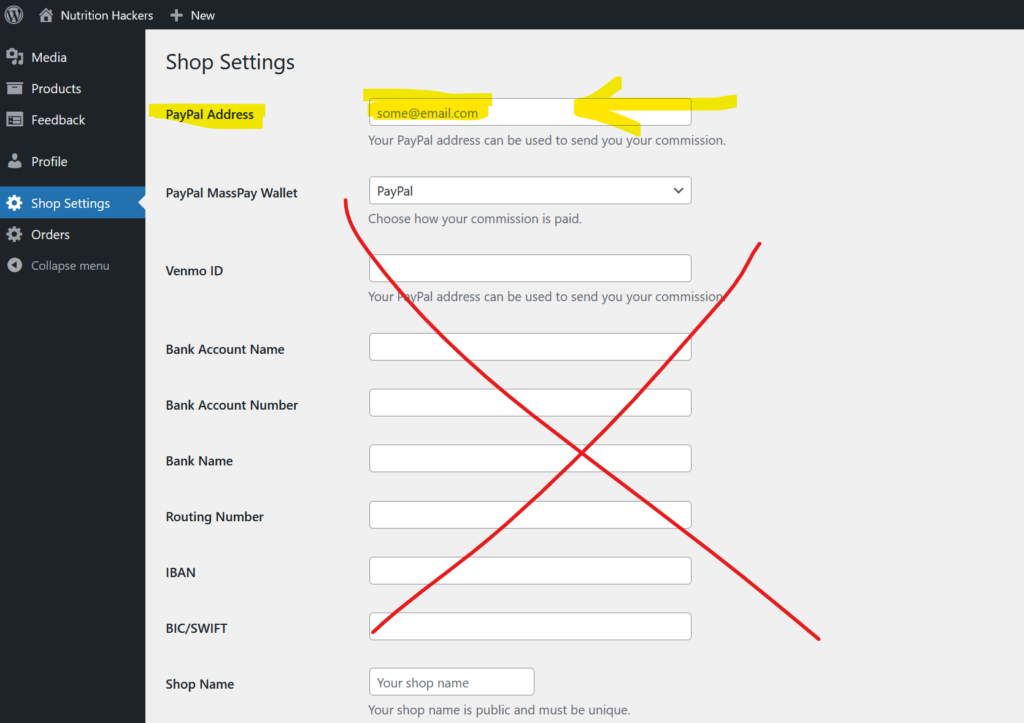 IGNORE ALL Other Shop Settings
You may notice multiple further additional fields under your Shop Settings, like your Shop name and address.
Please ignore all this for now! We may use these features in the future to enable individual coach pages in addition to your Product pages. For now, these fields are dormant.
The only field you do need to fill in under Shop Settings is your PayPal email address to enable payouts.
We will be in touch before our first payout date (17 July 2023) in case anyone forgets to add this.
You are all set!
Now you can start accepting bookings and coach!
If you run into any technical problems, please leave a comment here or email us at info@nutrition-hackers.com