Can I ask my customers to leave a review for me?
Yes you can.
For now, we are not sending automated review request emails. You can direct your customers to leave a review on your coach page with a link as follows:
[your coach page link] followed by #review_form

for example: https://www.nutrition-hackers.com/coach/stephanie-s/#review_form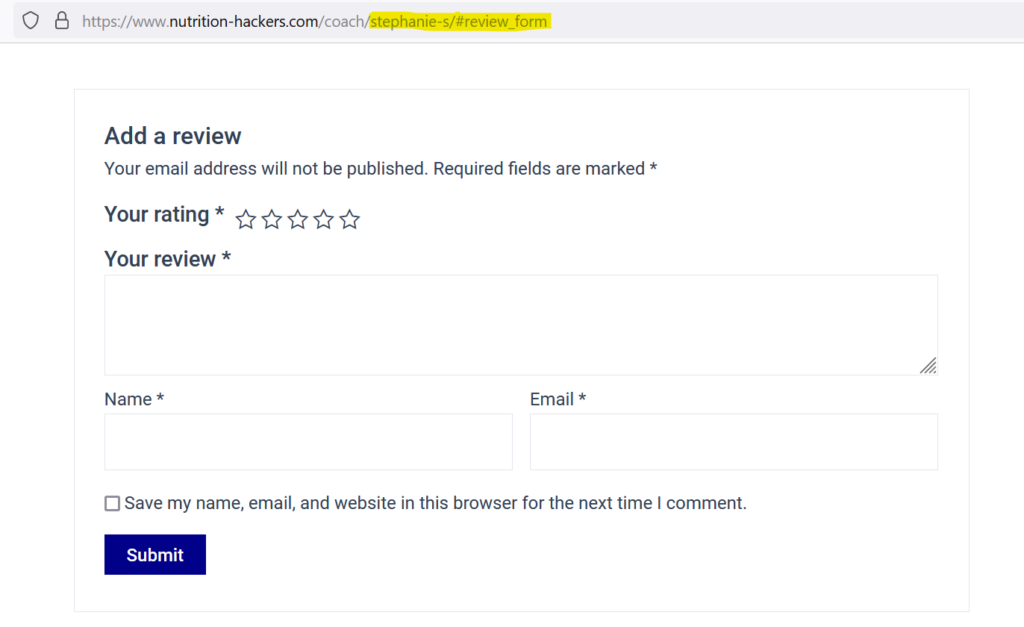 Can I migrate old reviews from another website?
Yes, we can help you to do that.
Please send your old reviews to us at info@nutrition-hackers.com and we will get them uploaded for you.
Can I use a nickname for my coach name?
Yes – If you would prefer to use a nickname by which you are known elsewhere, for example your social media handle, that's absolutely fine!
Our default initial setting for coach display names is full name, including first name and surname e.g. "John Smith". If you would prefer to use abbreviated surname, e.g. "John S" or a nickname e.g. "John The Mighty Carnivore" please amend it in your Product section.
Can I set my own prices for sessions?
Of course you can!
The default initial price will be set to $25 per 30-minute sessions but it's completely up to you how much to charge!
So please amend in your Product section if you would prefer to set a different price.
Can I write an article for Nutrition Hackers blog?
Yes, please! We welcome and encourage content contributions from our coaches and their clients.
Blog articles will include your bio and links to your product page.
We are putting together content guidelines and hope to have them ready by mid-July 2023.
Do you plan to start social media channels for Nutrition Hackers?
Yes, definitely!
Facebook group for coaches is already live. We are planning to add one for clients too.
We also plan to add Instagram and YouTube channels.
As with the blog, all content contributions will be greatly appreciated!
Content guidelines are coming soon by mid-July.
Do I have to coach exclusively on Nutrition Hackers?
No!
You are 100% free to coach on any other platform or website if you wish, including your own websites and social media.
The only thing you need to remember is to follow the rules set out in our Agreement if you provide coaching via our platform. The most important aspect is regarding nor providing medical advice.
How can I get some technical support?
Please leave a comment on this Help page or email us at info@nutrition-hackers.com